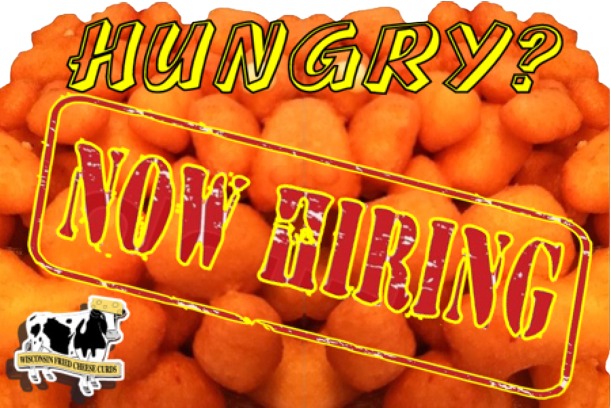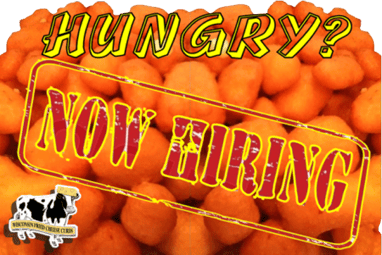 We're hiring for the Spring/Summer/Fall season.
Almost every weekend, and a few week days, from May - October, we have an event in which we'll need help. Most events take place in the Greater Milwaukee Area. This position requires stamina, positive attitude, quick decision making skills, simple math skills, team cooperation skills, communication skills, outgoing personality, ability to follow directions, and customer service skills in a fast-paced environment.
Cheese Booth Responsibilities:
Booth Setup (most of the time):

Assist with setup of booth at event

Transfer supplies and equipment between trailer/truck and work area




Sell:

Welcome customers

Take orders

Up-sell

Repeat orders

Operate cash register

Take cash; verbally verify amount of cash taken from customer

Give correct change; verbally verify/count back amount of change

Take/process credit cards with provided means

Relay orders to cook

Scoop, pour, and serve food/beverages to customers

Thank customers

Keep work area clean/neat/tidy; wipe up spills

Misc. other responsibilities
Cook/Fry:

Prepare and cook food under the direction of manager and/or self-guided

Serve food and beverages including scoop/bag/pour foods/beverages to be served

Responsible for general clean-up of fryers, griddle, and general kitchen area

Responsible for keeping dishes and other kitchen equipment clean

Misc. other responsibilities
Booth Tear-down/cleanup (most of the time):

Assist with take down of booth at end of event

Wash, rinse, sanitize all dishes in provided sink

Transfer/move supplies and equipment between trailer/truck and work area

Segregate and remove trash

Misc. other responsibilities
Visibly demonstrate safety commitment by following all safety and health procedures and modeling the behaviors related to such. Actively participate in support of all safety activities and safe food practices. Perform other duties as assigned by manager. Ability to work as a team, take direction, but also work independently.
Cheese Booth Qualifications:
16+

Medium strength: be able to lift up to 40 pounds

Regularly required to stand, walk, reach, talk see, and hear

Frequently required to stoop, kneel, crouch, bend, squat and/or climb

Vision abilities required include close, distance and color vision, depth perception and ability to adjust focus

Reliable transportation/shared rides
Hours of availability:
Most Friday nights, all day Saturdays and Sundays; generally from noon - midnight
Occasional Tuesdays Wednesday, and/or Thursdays
Perks:
On-site training/guidance for best practices

Cash payments at end of event or within a few days of event

Split tips

Paid/free admission to festivals

Shared rides to event (if necessary)

Free meals (including the ability to swap with other food vendors)
Still have questions? Contact us using the form below.
A confirmation page will appear when the form has successfully been completed and sent. (If you press the "Submit" button and you still see this message, keep trying.)