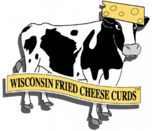 Fairs, Festivals, Community Events, Private Parties


Big or Small, We Do 'em All!
Whether you are the planner for a community event, a town festival, a private party, a fundraiser, or a corporate party, you can depend on us for a moo-velous time.
If you are planning an event or a party, just contact us because we would love to be at your event and/or to cater your event. We also would love to fill up our schedule of events. For private parties, we have a variety of pricing structures; please contact us for more details. For fairs and festivals, we prefer small entry fees and not huge percentage cuts. For fundraisers, we can give a percentage of our sales to your cause.
BONUS *
If we are part of a public community event, festival, or fair, we will help promote your event through our WisconsinFriedCheeseCurds.com website and on our Facebook page, http://www.facebook.com/WisconsinFriedCheeseCurds.
Last-minute decisions?
The further out you contact us the better prepared we can be, but for those last-minute events just contact us within a minimum of three days. We're ready to go! See our Calendar of Events for booking your event. Yes, we also have the ability to double-book.
We Already Have a "Cheese Guy"
This is something that we hear too often. We also hear, "We have a non-compete rule."
Here is our response:
Are you happy with your vendor?

Are customers happy with your vendor?

Is your vendor happy and enthusiastic to be at your event?

Does your current "cheese" vendor actually sell REAL Wisconsin Cheese Curds? OR are they cheese chunks? (There is a difference, and true Wisconsinite customers know it.)

Does your vendor offer a variety/mix of other Wisconsin foods?

Does your vendor have a cool website?

Does your vendor have a cool social media page, such as Facebook?

Does your vendor cross-promote your event?
If you have any doubts about your current "Cheese Curd" vendor, give us a try. We'd be more than happy to sell our Wisconsin goodness on the opposite end of your event. We all know that some friendly competition is a good thing.
Remember, if it doesn't say "Wisconsin Fried Cheese Curds™", you're just eating someone else's curds.


Worry-Free
As long as we have space to set up and electricity to use, we take care of the rest.
We can fry it and grill it in any setting - indoors or outdoors by utilizing all electrical appliances (no gas or open flame):
Counter-top deep fryers

Electric griddles

Slow-Cookers
Professional
Appearance

Cleanliness

Conduct
Insured
We also carry our own event liability insurance in which we name your event as the extra insured.
Health Department Compliant
We are completely compliant with all food establishment health codes. We are registered with the State of Wisconsin and carry a Wisconsin Health Department issued certificate.
Customer Satisfaction
Customers like us for the fact that we aren't your typical food vendors. We provide a high-quality menu with high quality service (and a smile) in a polite and friendly manner.
Your Next Event
Ready to have us at your next event? Contact us! Or, you can go the "Your Event" page for additional information.
Contact Us
Still on the fence? Contact us and ask!